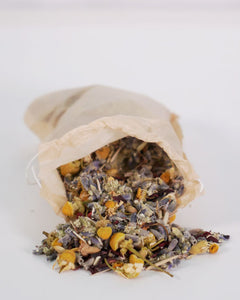 Plantbased Plants
Bath Tea
Regular price
$5.00
$0.00
Unit price
per
Teatime meets bathtime with our aromatherapy brews. Sink into an herbal tea bath and transcend the worries of the day. Soothe tired muscles and relax frazzled nerves while promoting circulation and mental clarity. Use as often as desired. Suitable for all skin types. 2 oz teabag (1 application per bag). 
How to use: steep one bag in a hot bath and let the herbs do their magic.
Invigorate. Energizes and refreshes. Boosts skin metabolism and elasticity with naturally astringent and anti-inflammatory properties.
Ingredients: Lemon Balm, Basil, Lavender, Rose
Dream. Promotes dreaming and intuition. Cleanses pores with naturally-occurring AHA exfoliants. Contains antifungal properties and stimulates collagen development. 
Ingredients: Rose, Chamomile, Mugwort, Hibiscus 
Relax. Soothes and calms. Cleanses and minimizes pores. Reduces inflammation and promotes tranquility. Ideal before bedtime. 
Ingredients: Hyssop, Borage, Chamomile, Lavender 
---